Body
Information on wastewater rates adopted for July 2022 - 2025.
Sections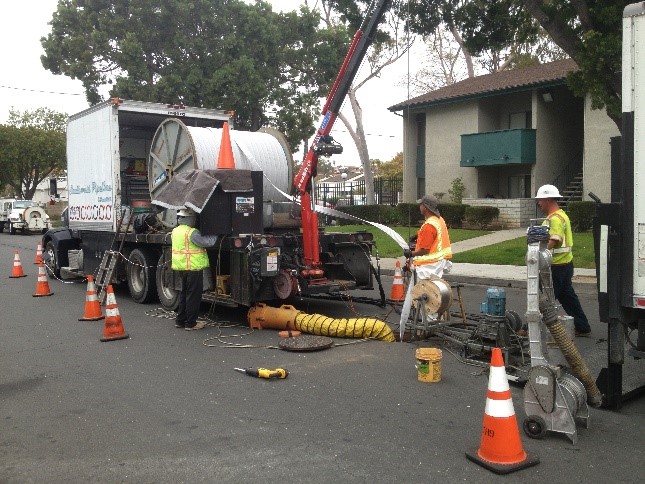 Investing in Our Wastewater System
The City's wastewater system plays an essential role in protecting public health and the environment. Maintaining this vital system requires a proactive commitment to investing in the infrastructure and resources necessary to provide service 24 hours a day, 365 days a year. The City of Santa Barbara adopted rate changes needed to continue this important investment.
The City's complex wastewater system includes 256 miles of sewer mains, seven lift stations, 25 creek crossings, over 7,000 access structures (manholes and cleanouts), two miles of pressurized force mains, and the El Estero Water Resource Center – all of which must operate seamlessly 24/7/365 to process approximately two billion gallons of wastewater annually.
What Your Wastewater Bill Pays For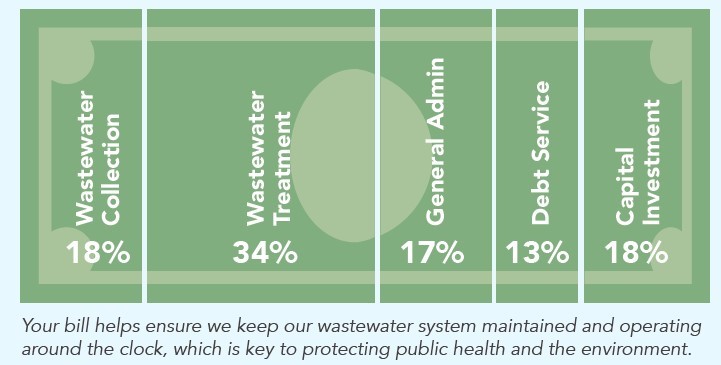 Infrastructure Investment is Paying Off 
The impacts of climate change and aging infrastructure are increasing, but we're already seeing the benefits of proactive investment in system improvements. In the past 10 years, the City has taken a proactive approach to protecting the environment by increasing rehabilitation and repair of our wastewater collection system, resulting in a 33 percent reduction in sewer spills. Plans are now underway to replace the aging mechanical and electrical equipment at the City's largest sewage pump station (Braemar Lift Station), resulting in increased reliability, efficiency and longevity.
As a result of proactive upgrades at El Estero Water Resource Center:
The quality and cleanliness of treated wastewater has improved.
The City is able to generate up to 40 percent of the energy needed to power El Estero on site.
Recycled water is produced for irrigation use, offsetting demands on drinking water.
Biosolids recovered from wastewater provide a natural alternative to chemical fertilizers. 
By strategically investing now at the lowest cost possible, we avoid more costly expenses that result from lack of care and maintenance, including costs to our environment and community.
Ensuring Sufficient Rates to Fund Critical Infrastructure
Regulations, inflation, cost of essential materials, state and federal requirements, and more are resulting in significant cost increases to operate 24-hour sewer service for the City's 96,000 customers. While affordability is always top of mind, so too is the City's responsibility to ensure adequate revenue to fund vital system operations and improvements. The City is actively working to control costs by obtaining loans and grants for complex and expensive capital improvement projects (like the Braemar Lift Station Rehabilitation Project and the El Estero Electrical Renewal Project) to help reduce and spread out costs over a 20-year period.
The City has implemented a grant strategy that involves identifying, tracking, pre-positioning and pursuing all grants for which the water and wastewater utility is eligible. We also continue to offer customer assistance programs including payment plans, utility tax waivers, leak relief and rebates.
Frequently Asked Questions
[ expand/close all ]
Commercial customers are charged the greater of their volumetric charges or minimum monthly bill amount based on meter size. Residential wastewater bills are made up of two key components: (1) a volumetric charge based on water usage, and (2) a fixed monthly base charge.

For single-family customers, wastewater volumetric charges are not charged above a set cap. The cap is meant to account for the fact that water usage above a certain level is likely being used as irrigation, thus not being discharged to the wastewater system. The cap for single-family residential customers is currently set at 10 HCF. In looking at the single-family class, staff and the City's expert rate consultant studied the cap in relation to current water usage trends. Many years of drought have created a "new normal" for average water usage as customers have made permanent changes to their properties and habits to reduce water usage. Analysis of current usage trends finds that on average, a single-family's monthly winter water usage (December – March) is about 8 HCF. Winter water usage is a reasonable approximation of how much water is being used indoors and thus discharged to the City's wastewater system, as irrigation should be minimal in winter months. For the above reasons the 10 HCF cap for single-family residences is being reduced to 8 HCF. The change to the billing cap will be lowered to 9 HCF in Fiscal Year 2023, and then to 8 HCF in Fiscal Years 2024 and 2025.
For multi-unit properties, water usage data shows no significant difference per dwelling unit between winter water usage and summer water usage. This indicates most water usage within this customer class is occurring indoors and is thus being discharged as wastewater to El Estero. Therefore, there is no cap for this customer class.

Unlike neighboring agencies who charge a flat annual wastewater charge on the tax roll, the City's rate structure allows City wastewater customers to lower their wastewater bill by lowering their water usage.
Measure C was approved by voters in 2017 and provides sales tax funding for maintaining and replacing public buildings and street-related infrastructure. Measure C does not currently provide funding for water or wastewater system infrastructure. The water and wastewater utilities are primarily funded from customer fees and rates and do not receive appropriations from any general tax revenues.
Development projects are required to pay capacity charges for new or increased water connections. This is because existing customers have been funding the utility system assets such as pipes, pumping stations, treatment plants and reservoirs through their monthly bill payments. Capacity charges make it equitable for new and existing customers to be billed at the same rates. Water and sewer capacity charges for a new 5/8" meter (the smallest meter the City offers) total about $14,000 for a home or small commercial development project. Charges for larger meters increase based on meter size. 
The water use from development projects add, on average, 40 acre-feet per year which is 0.35% of our annual water demand. In the City, almost all development is redevelopment, as there are very few vacant parcels. Some projects result in a net water reduction in water use due to stringent plumbing codes and landscape requirements that promote more efficient water use.