Title
Stranded Marine Mammals
Body
1. DO NOT TOUCH
2. OBSERVE ANIMAL
3. DETERMINE LOCATION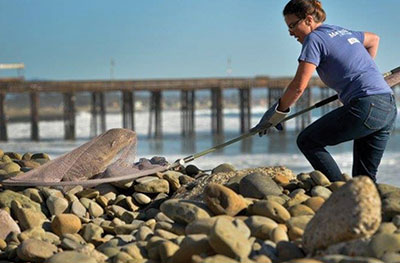 Marine mammals are federally protected under the Marine Mammal Protection Act. It is illegal for unauthorized individuals to touch, disturb, feed or otherwise harass these animals. Such unlawful actions could jeopardize the health of the animal. Violations of the Marine Mammal Protection Act can result in a civil penalty up to $11,000 as well as criminal penalties up to $100,000 and imprisonment of up to a year or both.
Remember, these are wild animals and they may bite!
It is important to keep both people and pets away from the stranded animal. If pets are around the area, make sure they are on a leash. These animals are easily stressed by humans and pets. Crowding may cause them to act aggressively or for an animal that needs help to become threatened and return to the ocean. A pet could also bite the stranded animal causing injury and it is possible that a pet or person could be bitten if the wild animal becomes defensive. Zoonotic diseases can be transmitted between stranded animals and pets as well as humans.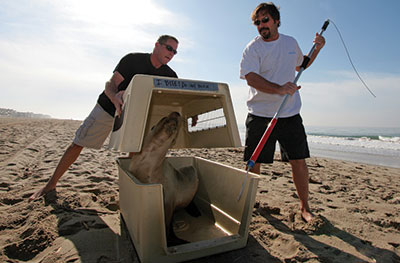 Not all animals on the beach need human intervention. It is normal for seals and sea lions to come out of the water ("haul out") to rest, digest and sun themselves and mothers often leave their pups onshore while they are foraging at sea. It is in the best interest of these wild animals to have the least amount of human interaction as possible.
---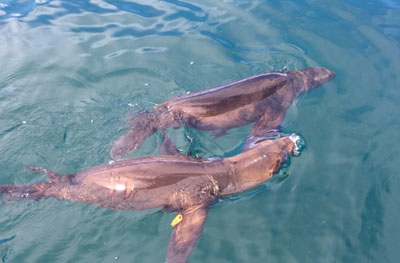 Channel Islands Marine & Wildlife Institute's (CIMWI's) core work is the rescue and rehabilitation of sick, injured, malnourished, orphaned, entangled and oiled marine mammals. CIMWI is the only organization authorized by NOAA's National Marine Fisheries Service to respond to live and dead pinnipeds (seals and sea lions), live and dead sea turtles, and live cetaceans (whales, dolphins and porpoises), rehabilitate live pinnipeds, and triage live cetaceans and sea turtles in Santa Barbara and Ventura counties. CIMWI's jurisdiction encompasses 153 miles of coastline (from the San Luis Obispo/Santa Barbara County line south to the Ventura/Los Angeles County line).