Title
Chief of Police & Community Accountability Staff
Body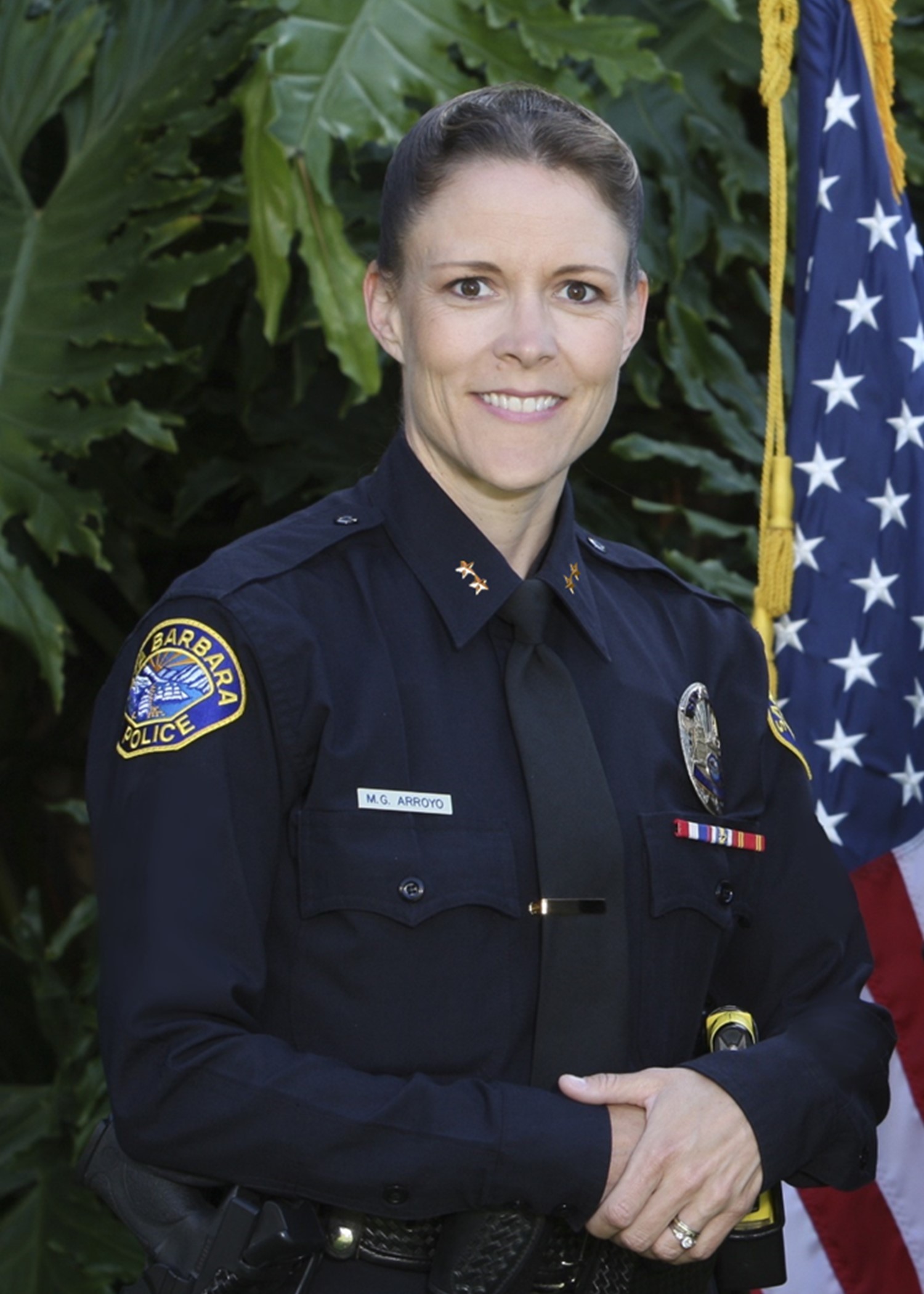 Interim Police Chief Marylinda Arroyo
Interim Police Chief Marylinda Arroyo 
Effective July 16, 2022, Commander Marylinda Arroyo will be serving as the Interim Police Chief for the City of Santa Barbara.  It is expected that a permanent Police Chief will be announced within the next few weeks.
Marylinda Arroyo is a Police Commander with the Santa Barbara Police Department and a graduate of the California POST Command College, class 67. She began her public safety service in her hometown of Santa Barbara in 1991, while attending and earning a bachelor's degree from the University of California at Santa Barbara. In addition, she earned a Master's Degree in Public Policy and Administration from California Lutheran University, Leadership and Management Certificate from The Wharton School at the University of Pennsylvania, and an Executive Certificate in Law Enforcement Command from the University of San Diego.
During her 27 years as a peace officer, she has received numerous recognitions, including the prestigious Thomas H. Guerry Award, Chief Meritorious Award, California Peace Officers Association Foundation Award, Law Enforcement Award – Optimist Club, and Girls Inc of Greater Santa Barbara Alumni Hero. She and her husband Sam have been married for 22 years and have a daughter in college and a son in high school.
Commander Arroyo's assignments have included patrol officer; crisis negotiations team; academy instructor; special investigations detective; high tech crime and digital forensics investigator; sergeant; patrol watch commander; and strategic operations and investigative division commander.
Commander Arroyo was the first female to be promoted to the rank of lieutenant, captain and commander in the 122-year history of the Santa Barbara Police Department, and currently commands the field operations division, which includes patrol, traffic, special enforcement, street crimes, co-response, dispatch, SWAT and CNRT.
Chief's Staff
The Office of the Chief of Police has both sworn and professional staff (non-sworn), and is composed of two sections: Chief's Staff and Community Accountability Staff.
The Chief's Staff develop and review policy and procedures providing direction for the maximization of the total law enforcement effort.
Chief of Police: Leads the Department operating under the philosophy of Community Oriented Policing.
Chief's Executive Assistant: Provides staff support and is Secretary to the Fire & Police Commission.
Command Staff: Division Commanders of Field Operations and Investigative & Internal Operations Divisions. 
Community Accountability: Provides support to the Santa Barbara community by forming strong relationships with professional organizations, businesses, and community members. 
Public Information Officer: The official spokesperson for the Department handles and coordinates all media involvement, press conferences, and internal / external communication.
Professional Standards: Conducts personnel complaint investigations, internal audits, and assists in the defense of police civil litigation cases.
Support Services
Business Office provides the department with budgetary, payroll, purchasing, and personnel functions.
Parking Section staff processes parking citation payments and vehicle releases at the records counter.