Title
Sewer Lateral Inspection Program
Sections
The City of Santa Barbara's Sewer Lateral Inspection Program (SLIP) was established in 2007 to address the increasing number of private and public sewer spills caused by issues with the private sewer laterals. Today, SLIP's goal is to eliminate private sewer spills in our City. 
Ownership & Maintenance Responsibilities
In the City of Santa Barbara, property owners are responsible for maintaining the sewer lateral, or sewer pipe, that connects their house or building to the public sewer main. The responsibility for maintenance also includes the connection fitting, or "wye" that attaches the lateral to the public sewer main pipe which conveys the community's sewage.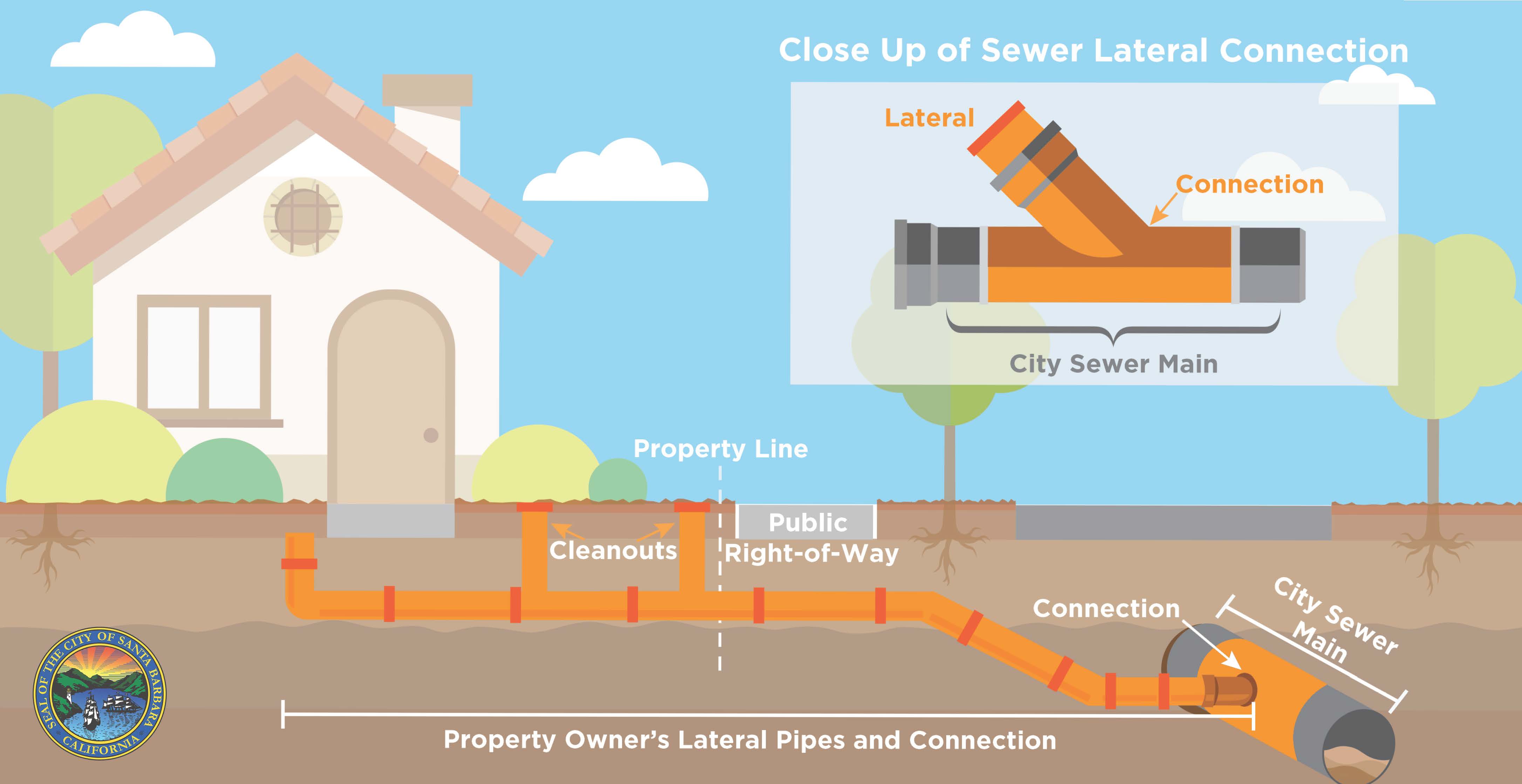 For more information on the property owner's responsibility for maintenance, see Santa Barbara Municipal Chapter 14.44.160 Maintenance of Private Systems and 14.46.010 Definitions Building Sewer Lateral.
IMPORTANT MESSAGE REGARDING COVID-19
The City recognizes some property owners may be facing financial hardship. SLIP staff will continue to provide support to property owners with a SLIP Case. Contact us to schedule a virtual appointment.  
Life Expectancy of a Sewer Lateral
While some sewer pipes can last up to 100 years, depending on the type of material they are made from, some wear out much sooner or become defective if the area around the sewer lateral is disturbed.  If your house was built before 1970, your sewer lateral is most likely made from clay, cast iron or "orangeburg" and may need to be repaired, rehabilitated or replaced.  The only way to know is hiring a City Certified CCTV Inspector to inspect the condition of your private sewer lateral or finding out as a result of a sewage backup.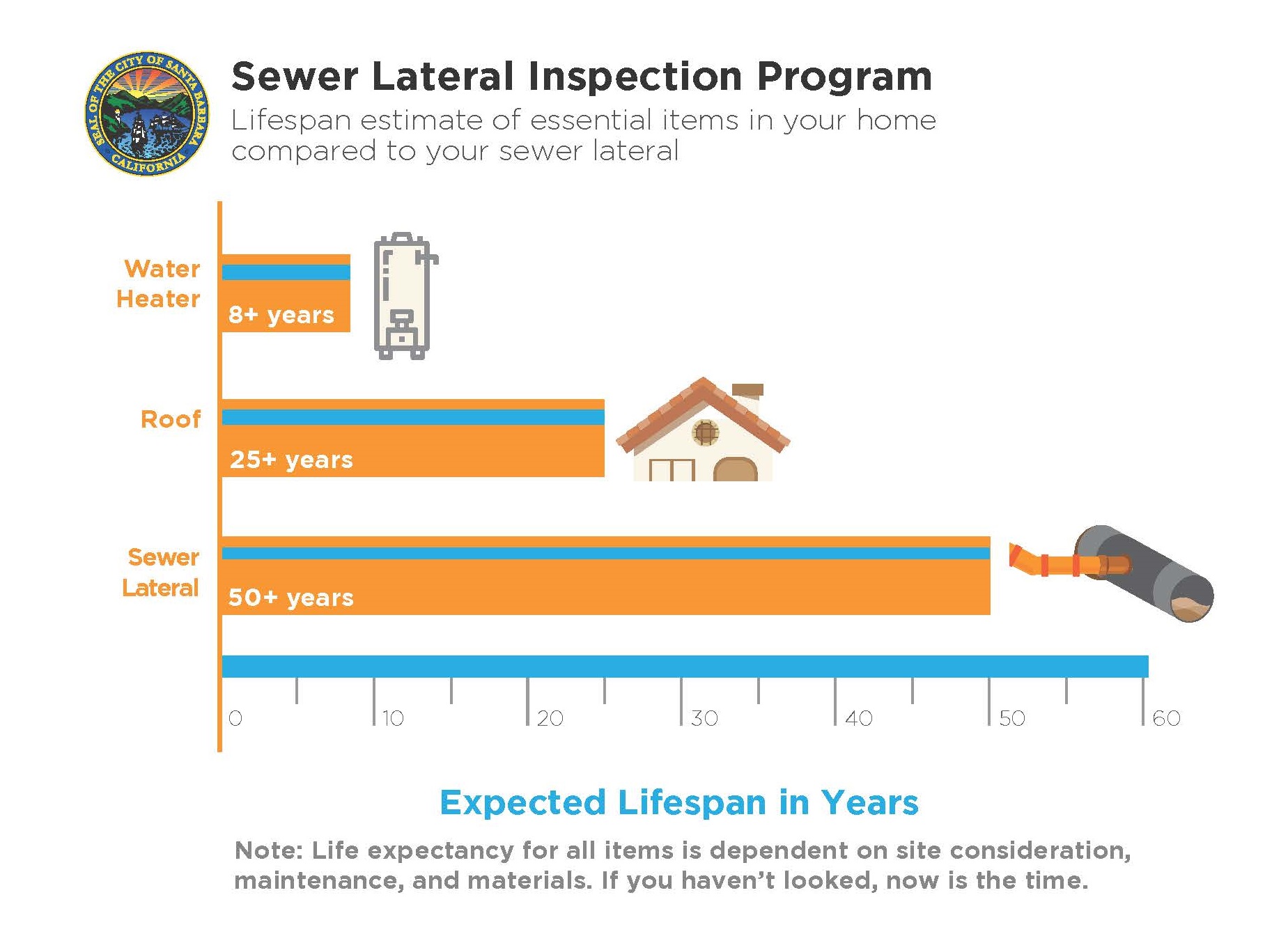 Maintenance Issues
Like your roof, pipes deteriorate over time and require maintenance.  Common issues with aging sewer laterals include tree roots entering at failed joints or cracks, broken or separated joints, or complete collapses.  As your pipe deteriorates, joints may begin to fail, allowing roots to enter into the barrel of the sewer lateral. If the roots are not discovered in time, they can cause a blockage, leading to a sewage spill that could cause costly damage to your private property and environmental harm. Roots are especially problematic in Santa Barbara's Mediterranean climate and the roots thrive when they find a new, nutrient-filled water source: your old possibly cracked sewer lateral.
If you experience a sewage backup, have a toilet or household drain emptying slower than usual, or you find patches in your yard that are always wet, you should contact a City Certified CCTV Inspector to have your sewer lateral inspected as soon as possible.  They can perform a video inspection of the inside of your sewer lateral to determine if it is damaged or simply clogged by grease, or debris (such as "disposable" wipes).
Inspection Triggers
If you own a property within the City of Santa Barbara and receive City sewer service, you may receive a letter indicating that you need to inspect the sewer lateral.  Your letter should identify which condition triggered the inspection. Reasons the City would initiate a SLIP case for your property are:
1. The City's Sewer Condition Assessment Program identified a defect on your Sewer Lateral through routine CCTV inspection of the City's Main Sewer Lines. The defects could be; roots intruding into the Main Sewer Line, a defective connection between your Sewer Lateral and the Main Sewer Line, or a structural issue inside the Sewer Lateral itself.
2. A Private Lateral Sewer Discharge (PLSD) or a  Sanitary Sewer Overflow (SSO) was originated from your property, resulting in emergency response from City staff to contain and control the sewer spill, preventing discharge from entering the environment. In this case, identifying and eliminating the root cause of the spill is required
3.The property is adding an extension, an  Accessory Dwelling Unit (ADU), or any construction project that would add either 400 sq. ft. of construction area or 2 plumbing fixtures. A construction project building permit will trigger a SLIP Case, to ensure that the sewer lateral(s) is/are in appropriate condition.
4.The property is identified as a Commercial, Industrial, or Common Interest Development (3 or more dwelling units). Per Municipal Code, these properties shall have their Private Sewer Lateral inspected every ten years to assure it meets SLIP standards.