PR Image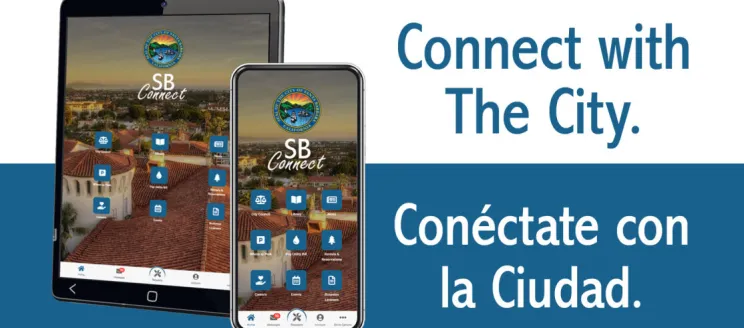 Title
Introducing SB Connect: The City is Just a Click Away with New App (ENG/SPA)
Subtitle
Newly Launched Bilingual App Can be Downloaded for Free in the Apple App Store or Google Play Store
The City is thrilled to announce the launch of our new app, to better connect the community to the services and specific departments they need. An innovative mobile application designed to revolutionize the way residents engage with their local government, the 'SB Connect' App will give people the opportunity to report issues and make service requests with ease. Just like the name of the app suggests, 'SB Connect' helps you connect with the City to build a stronger community.  
SB Connect marks a significant milestone in enhancing civic engagement and streamlining public services. Through our user-friendly interface and advanced backend infrastructure, we have reimagined the service request process, ensuring swift and efficient solutions to community needs. 
 
"SB Connect is a new way to communicate with the City of Santa Barbara and we look forward to the efficiencies it will bring to our departments and our citizens. In addition to tracking the status of your report, SB Connect allows you to review other reports in your neighborhood and see what the City has done to resolve them. This is an exciting step as we continue to modernize our processes into the future," said Justin Cure, the City's Information Technology Director. 
The City is excited to provide residents with improved access for reporting issues and helpful City information in both English and Spanish. By leveraging the power of technology, SB Connect empowers users to conveniently report issues, like potholes or graffiti, all from the comfort of their smartphones or tablets. Gone are the days of waiting on hold or trying to guess which department you need to call, SB Connect streamlines the entire service request experience, optimizing response times and improving overall satisfaction. Please note that SB Connect should not be used for emergency reporting. For emergencies, always dial 911. 
For less urgent issues, using the SB Connect App is as easy as 1-2-3:  
Snap a picture or short video of the needed repair or issue. 

Type a brief description.

Click Submit and your request will be streamlined to the appropriate party. 
You can submit service requests anonymously or create a free account to track progress and see how and why other members are engaging with the City.  
All City departments have diligently been working to implement SB Connect since October 2022. The comprehensive process encompassed evaluation of the application, thorough examination of report types, meticulous design, and rigorous testing. 
You can visit www.santabarbaraca.gov/sbconnect to download the app. 
Contact
Contact
Kacey Drescher
City Administrators Office
Communications Specialist