ID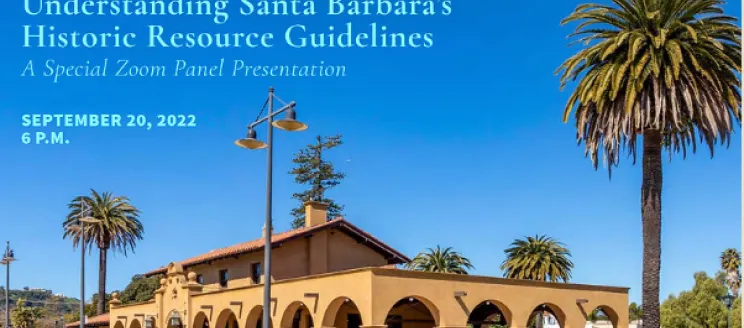 Title
Understanding Santa Barbara's Historic Resource Guidelines
Authored on
September 13, 2022
Body
Do you ever wonder how the City of Santa Barbara helps preserve Santa Barbara's rich architectural history? In 2021, The Santa Barbara City Council amended the Historic Resource Ordinance and adopted updated Historic Resource Design Guidelines, cementing the City's recognition of the importance of protecting historic resources, and supporting decision-making, that will ensure the continued maintenance, preservation, and enhancement of these resources. Please attend this Zoom panel presentation and discussion to learn about the policies that our City has put in place to protect and cherish our unique heritage. Panelists will explore our community's architectural history, the current state of preservation at the City, and the challenges and opportunities that lie ahead. Learn how architects, historians, and community leaders are currently working together to preserve the past while forging a path to meet our community's current and future needs.
Anthony Grumbine is a Principal Architect at Harrison Design, and specializes in the architecture of Santa Barbara. He is the current Chair of the City of Santa Barbara's Historic Landmarks Commission, and the current president of Santa Barbara Trust for Historic Preservation's Board of Directors. 
Nicole Hernandez is the City of Santa Barbara's Architectural Historian. She worked as Architectural Historian for five years at Historic Denver, Inc. and four years for the City of New Orleans before coming to join the City of Santa Barbara in 2012. 
Cassandra Ensberg is a Santa Barbara-based architect at ENSBERG JACOBS DESIGN INC. She served as President of the Architectural Foundation of Santa Barbara (AFSB) from 2014-2015. She currently serves on the AIASB Board of Directors, and devotes much of her time in service to the community to educate about the essential role of art in design, and architecture.
6:00PM, Tuesday, September 20th, 2022 on Zoom - Register Here
This event is hosted by the Santa Barbara Trust for Historic Preservation