ID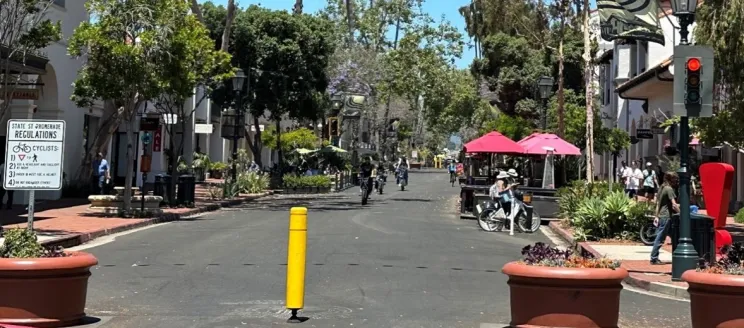 Title
State Street Promenade Bike Lane and Crosswalk Installation Begins November 14
Body
Bike lanes and high-visibility crosswalks are coming to the State Street Promenade from Victoria to Haley Streets as part of a pilot project. Installation will begin Tuesday, November 14th, along State Street from Victoria to Anapamu Streets (1200 block) and will be completed over the next three weeks, weather permitting. The 1200 block will be opened to northbound vehicular traffic to facilitate passenger drop-off at the Granada Theatre.
State Street is a City Council-designated High Priority Vision Zero Corridor to eliminate severe traffic-related injuries and fatalities. While collisions have significantly decreased and the State Street Promenade has been open to only cyclists and pedestrians, there are still conflicts between road users along the corridor and at intersections. To limit these conflicts, City Council requested this pilot project to separate cyclists from pedestrians in the roadway. High-visibility crosswalks will also be installed at mid-blocks and intersections. 
Pilot projects are a way to experiment with different configurations downtown before significant investment into a permanent solution occurs. The State Street Master Planning effort, Create State, is currently underway for the long-term vision of Downtown State Street. Please stay involved and visit StateStreet.SantaBarbaraCA.gov.