ID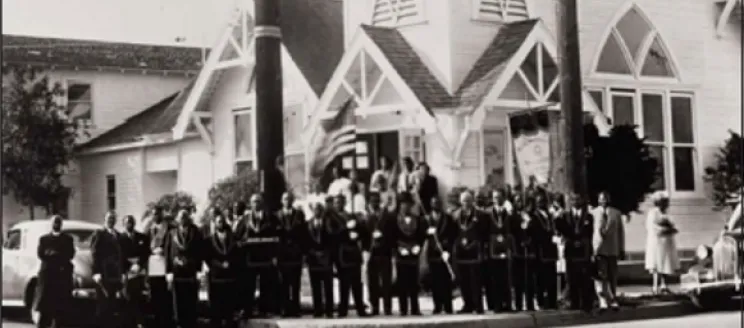 Title
Prioritizing the Preservation of Black Legacies in Santa Barbara
Authored on
September 13, 2022
Body
Upcoming Lecture: Wednesday, October 19th at 5:30PM in the MLK Room at the East Side Library
Sojourner Kincaid Rolle, of Healing Justice Santa Barbara and Nicole Hernandez, Architectural Historian will lead a discussion of the recently completed African American/Black Historic Context Statement. The project demonstrates how the built history of a community plays a role in helping uplift African-American and Black people today.  A unique collaboration of social justice leaders and historic preservation specialists in Santa Barbara compiled Santa Barbara's African American/Black history, one overlooked for decades. The historic context statement examines the history of Santa Barbara's African American and Black community through historic buildings. It identifies buildings and sites important to the community that can now be designated and protected as historic resources. The lecture will highlight the many contributions of African American and Black people in Santa Barbara, beginning in the Spanish and Mexican periods through the postwar fight for civil rights. 
Sojourner Kincaid Rolle: During the last three decades, Sojourner Kincaid Rolle has shared her experience, creative ideas, and unique skill set with all segments of the Santa Barbara community. Sojourner has a rich work history that began with child advocacy work in North Carolina. After a Criminal Justice degree from UNC-Charlotte with an emphasis in Juvenile Delinquency, she attended law school at UC-Berkeley honing her skills in youth advocacy and civil rights. 
Sojourner moved to Santa Barbara 1985 and spent much of the next two decades working in areas of conflict resolution, mediation and group facilitation. She had staff and director roles with the Santa Barbara Rental Housing Mediation Task Force and the Isla Vista Mediation Program and as the Violence Prevention Educator for the Community Mediation Program. She served on a number of state and local boards and committees including  the Santa Barbara County Arts Commission, the Fund for Santa Barbara, Building Bridges, the NAACP,  and is a founding Board Member of the Martin Luther King, Jr. Committee (2007-present). 
As Community Outreach Coordinator for the UCSB Center for Black Studies Research (2003-2018) and her more recent work with Healing Justice SB, Rolle has been involved in discovering and publicizing the history of Santa Barbara's African American/Black community. Her literary interests have continually evolved and she began incorporating more creative projects in her community work. Her presentation and performance abilities have been evidenced through productions for local radio and public access television, organizing and hosting numerous cultural events, and as a featured guest at innumerable public and private endeavors. 
Sojourner's current work includes original poetry presentations and workshops, diversity and cultural awareness programs, group facilitations such as the Heart 2 Heart "Sharing Stories of Race and Culture" and community education endeavors throughout central California. 
Nicole Hernandez is the Architectural Historian at the City of Santa Barbara whose work entails managing the historic preservation work program and oversight of alterations to the City's historic resources. She has Master of Fine Arts in Historic Preservation and has worked in Historic Preservation for 22 years starting with non-profit advocacy and in the private sector in masonry restoration then she moved to the public sector as architectural historian in New Orleans, Louisiana.
In 2012, she was offered the position as Architectural Historian in Santa Barbara. Her work ensures projects meet the highest standards of restoration and rehabilitation. Over the past 10 years as Architectural Historian in Santa Barbara she has overseen the local designation of over 300 historic buildings to ensure their continued protection as significant features of the Santa Barbara streetscape.  In 2021, she applied for and received a grant to hire Page & Turnbull and Healing Justice Santa Barbara to create a Historic Context Statement for the African American/Black Community that provides a concise history and identifies historic resources that represent that history.