ID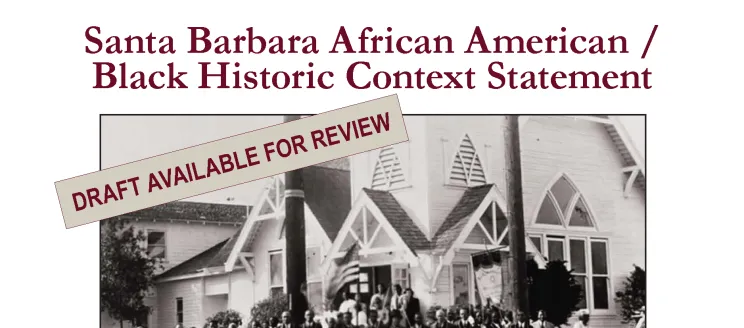 Title
Draft Santa Barbara African American and Black Historic Context Statement Released
Authored on
June 19, 2022
Body
The City of Santa Barbara, through a grant from the California Office of Historic Preservation, has developed a Draft Santa Barbara African American and Black Historic Context Statement that explores the themes, events, people, and places important to the African American and Black community in Santa Barbara.
The goal is to further recognize and understand the history and contributions of the African American and Black community to the City and identify landmarks and sites of significance.
Scan the QR Code below or visit www.SantaBarbaraCa.gov/ContextStatement to review
and comment by July 15, 2022 in one of the following methods:
EMAIL: Send comments to Architectural Historian,
Nicole Hernandez at: NHernandez@SantaBarbaraCA.gov
USPS: Mail written comments to Nicole Hernandez,
Community Development Department, PO Box 1990, Santa Barbara, CA 93102-1990
PHONE: If you have questions you may also call Nicole Hernandez,
Architectural Historian at (805) 564-5536
SPEAK: Santa Barbara Historic Landmarks Commission will review the draft
at a public hearing at 630 Garden Street in the David Gebhard Meeting Room
on July 6, 2022 at 1:30PM.