ID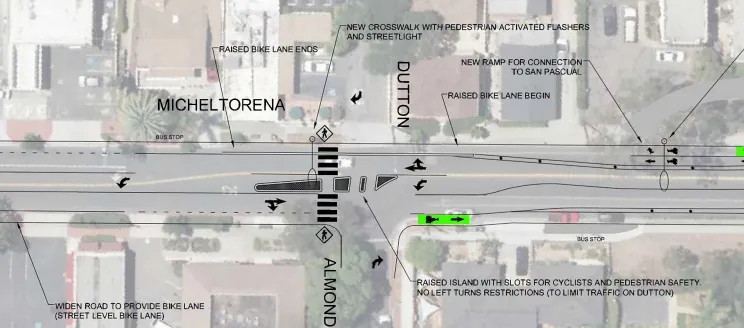 Title
Construction Continues for the Westside Community Paseos Project
Authored on
March 14, 2023
Body
The Westside Community Paseos Project (Project) is funded primarily through Active Transportation Program grant funds and will provide walking and biking connections within the Westside, and from the Westside to Downtown. 

Project construction is anticipated to continue this month (weather permitting) on the 600 block of W. Micheltorena Street and will last for approximately two months in this location. Access will be maintained for residents and businesses, although temporary disruptions and traffic delays should be anticipated. Improvements will include new protected bike lanes, access ramps, and a safe crosswalk with a midblock refuge island and rapid flashing pedestrian beacons at Dutton Avenue and Almond Avenue. In addition, the path between San Pascual Street and Micheltorena Street will be widened to allow access for both pedestrians and cyclists. 

Since January of 2023, the following safety enhancements for the Project have been constructed: a new multiuse path that safely connects cyclists and pedestrians to routes on Modoc Road and San Pascual Street, and new pedestrian access ramps at the intersections of Panchita and Sola, Panchita and Victoria, and Sola and Salsipuedes Streets. Additional work along San Pascual Street is anticipated in the coming weeks. 

The Project will be constructed in phases and will last approximately eight more months. Community updates will be provided prior to construction in each location. Work is restricted to occur between 7:00 a.m. to 5:00 p.m., Monday through Friday.

We appreciate your continued support and patience. For more information about the Project, email WestsideCommunityPaseos@SantaBarbaraCA.gov.