Bio Image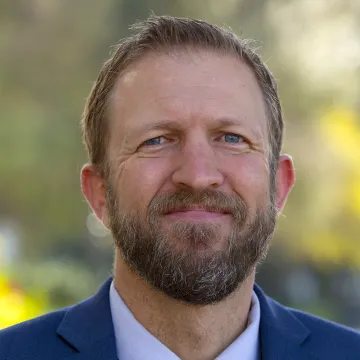 Position
Councilmember, District 5
Bio
"Dear Friends,

I am honored to represent you as the 5th District Councilmember for our beautiful City of Santa Barbara.  I grew up in Santa Barbara County, having attended Monte Vista Elementary School, in the 5th District, graduated from Lompoc High School, and returned to the City over twenty years ago.  As a lifelong resident with a regional perspective of our county, I truly appreciate the special character of our City and surrounding communities.  

I was first elected to the Santa Barbara City Council in 2017, and in 2021 was re-elected to a five-year term.  As your representative on Council, I am committed to maintaining public trust through transparency and responsiveness. Currently, I am working on a number of issues important to the quality of life in our City: responding to the impacts of the pandemic; economic revitalization of downtown; responsible fiscal management; housing affordability; homelessness; environmental sustainability; securing a diverse water supply; improving City infrastructure; and advocating for our parks and libraries.  

I serve on a number of Council Committee Assignments that include: Chair of the City Finance Committee; Chair of the Long Range Development Oversight Committee; Chair of the Central Coast Water Authority; Sea Level Rise Subcommittee member; Community Choice Energy Subcommittee member; Chair of Cal Cities Coastal Cities Leadership Group; and the Library Advisory Committee Liaison. Specific significant accomplishments include implementing the City's first Vision Zero safety project along the Las Positas corridor; the establishment of the State Street Pedestrian Promenade; and securing funding to construct the Library Plaza renovation project. 

Since 2017, I have also worked at a local grocery store where I served as a frontline grocery worker throughout the pandemic. That job has allowed me to create genuine, one-on-one relationships with members of the community and gain a unique perspective on the impacts of the pandemic. 

Prior to serving on City Council, I worked as a District Representative for First District County Supervisors Naomi Schwartz and Supervisor Salud Carbajal (2002-2016) where I gained a true appreciation for how a responsive and effective local government benefits the community.  My educational background includes a B.A. in History from the University of Notre Dame, a Masters in Public Administration from Cal State Northridge and I was in the 2014 cohort of the local Emerging Leaders Program. I also volunteered for a number of community and civic organizations focused on serving youth and families. This service included serving on the Board of Directors of Child Abuse Listening Mediation (CALM); Chair of the Fighting Back Santa Barbara Youth Mentor Task Force; President of the Santa Barbara Public Library Foundation; and serving on the Westside Boys and Girls Club Advisory Board. I also served as Chair of City of Santa Barbara Library Committee and as a member of the Harbor Commission.  
Please feel free to reach out to me at any time, on any City-related issue. I'm here to serve you."
---
Current term: Through December 2026
Elected to City Council in November 2017 for a four-year term;
Re-elected in November 2021;
Sworn into office in January 2022 for a five-year term.
Served as Mayor Pro Tempore in 2019 for a one-year term.
Committees, Agencies and Liaisons
Advisory Groups, City Council Liaisons
Airport Commission
Library Board
Water Commission (alternate)
City Council Standing Committees
Ad Hoc Committees
Committee on Legislation
Farmers' Market Relocation Subcommittee
Land Development Team Oversight Subcommittee
Sea Level Rise Adaptation Plan Subcommittee
City-Related Agencies
PARC Foundation
Santa Barbara Beautiful
Santa Barbara Chamber of Commerce (alternate)
Council Representation on Regional Agencies
Beach Erosion Authority for Clean Oceans and Nourishment (BEACON)
Cachuma Conservation Release Board (CCRB) - alternate
Cachuma Operation and Maintenance Board (COMB) - alternate 
Central Coast Water Authority (CCWA)
Santa Barbara County Air Pollution Control District Board of Directors (APCD) - alternate
Santa Barbara County Association of Governments (SBCAG) - alternate