Title
Fourth of July Celebration
Logo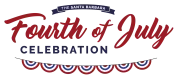 Body
Join us for our annual Fourth of July Celebration, hosted by the Waterfront and Parks and Recreation Departments!

If you're looking for somewhere to celebrate this Independence Day, there'll be no better place than Santa Barbara's waterfront. A full slate of festive, fun, and family-friendly activities is planned throughout the day, including free live music and dance performances on the beach, hosted by the PARC Foundation!

The festivities will be capped off with a bang during a 20-minute fireworks display, presented by Garden State Fireworks and sponsored by the City's Waterfront Department. Fireworks will launch from West Beach starting at approximately 9 p.m. The show will be simulcast on local radio station KjEE (92.9 FM) and live-streamed on KEYT.com. The City thanks KjEE and KEYT for their longtime support of this community tradition.

Here's a list of some of the fun on tap…
West Beach
Enjoy a full day of live music at the West Beach bandstand, sponsored by the PARC Foundation, before a 20-minute fireworks display presented by Garden State Fireworks and sponsored by the City of Santa Barbara Waterfront Department. Local radio station KjEE (92.9 FM) will simulcast the fireworks soundtrack. 
Full Schedule:
● 12:00 p.m. - 12:45 p.m. - DJ Joseph Souza
● 1:00 p.m. - 1:45 p.m. - Peer Pressure
● 2:00 p.m. - 2:45 p.m. - The Free Radicals
● 3:00 p.m. - 3:45 p.m. - Rock Shop Review
● 4:00 p.m. - 4:45 p.m. - Golf Sucks
● 5:00 p.m. - 5:45 p.m. - Drifting Dimension
● 6:00 p.m. - 6:45 p.m. - The Other Woman
● 6:45 p.m. - 6:55 p.m. - La Boheme Dancers
● 7:00 p.m. - 7:45 p.m. - The Roosters
● 7:50 p.m. - 8:45 p.m. - Spencer the Gardener
● 9:00 p.m. - 9:20 p.m. - Fireworks! 

Cabrillo Boulevard Sidewalk at West Beach
● 11:00 a.m. - 9:00 p.m. - Enjoy festive food and vendor booths, sponsored by the PARC Foundation. This year's vendors include Timbers Roadhouse, Tinkers Hot Dogs, Lidos Philly Cheese Steaks, G Brothers Kettle Corn, and Deli Doctor Sandwiches.
Stearns Wharf
Visit Stearns Wharf for free musical entertainment and face painting, compliments of the Stearns Wharf Merchants Association. While enjoying Stearns Wharf, explore wharf merchants offering jewelry, shells, arts, crafts, clothing, wine tasting, fishing gear rentals, and festive treats, along with Wharf restaurants offering fresh seafood, steaks, burgers, and more. Additional information about festive activities happening on Stearns Wharf can be found here.
 
Full Schedule:
● 12:00 p.m. - Live music by Brasscals
● 2:00 p.m. - Free face painting 
● 4:00 p.m. - Live music by Area 51
Pershing Park
● 4:30 p.m. – See the Santa Barbara Foresters take on the SLO Blues during their annual Fourth of July game. Individual tickets are available at the gate. Adult tickets are $7, tickets for seniors and children 4-12 are $3, and children 3 and under get in free!
July 5th Beach Cleanup Volunteer Opportunity
With thousands flocking to Santa Barbara beaches for Independence Day, a lot of litter can end up on the sand. This year, you have two opportunities to be part of the solution. First, make sure you pick up after yourself before you leave the beach on July 4th. Second, if you'd like to take it up a notch, volunteer to help with cleanup efforts on July 5th.

The City will partner with Santa Barbara Channelkeeper to host cleanups at nearby beaches to ensure any litter left over the holiday does not make its way to the ocean. Cleanups will take place at Leadbetter Beach and East Beach from 9 a.m. to 11 a.m. Gloves and buckets will be provided for all volunteers. Community members that would like to help with cleanup efforts can register here.