PR Image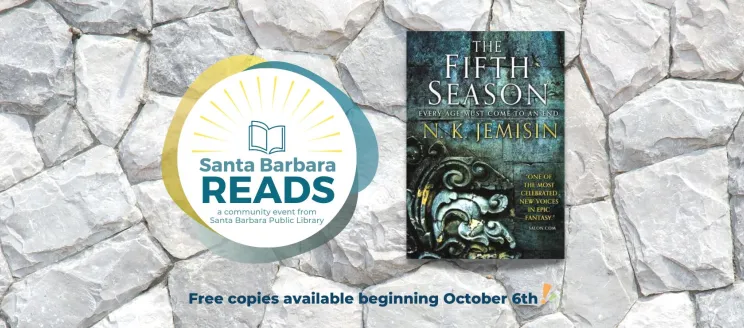 Title
Santa Barbara Public Library Announces Programming for Santa Barbara Reads 2022
Authored on
September 1, 2022
The Library is inviting the community to read and discuss The Fifth Season by N. K. Jemisin as well as participate in programming to explore the themes of the book, during Santa Barbara Reads 2022.
Each year, Santa Barbara Public Library encourages local residents to read the same book at the same time to connect with one another, engage in discussions about issues that matter, and examine the world from viewpoints other than their own. Through Santa Barbara Reads, SBPL distributes free copies of featured titles throughout the community and offers programs and book discussions in order to engage deeply with issues explored in the novel.
To complement the exploration of The Fifth Season, two additional titles have been chosen for distribution and discussion: On Girlhood: 15 Stories from the Well-Read Black Girl Library, a collection of short stories by Black women writers edited by Glory Edim; and How to Read Now: Essays by Elaine Castillo, which explores the politics and ethics of reading and asks us to be critically engaged with reading not only to appreciate art, but also to excavate our histories.
Programming includes a talk with Elaine Castillo about how to dismantle the forms of interpretation we've inherited, an exhibition of local art inspired by the question "What if?" in the Faulkner Gallery, with a First Thursdays reception, as well as an all ages geology science fair, a lecture on the world-building in The Fifth Season, a MakeSB! concert featuring local bands and a celebration of creativity, Spanish-language programs, book discussions, and more!

View the full calendar of events for details on the Library's website.

Complimentary copies of How to Read Now are available beginning September 1, 2022. Priority access will be given to those who register to participate in our virtual or in person book discussion series. A limited number are available in print, and additional copies without wait times are available via Overdrive/Libby in ebook and digital audiobook formats through October 6, 2022.

Print copies of The Fifth Season will be available beginning October 6, 2022 at the First Thursday event in the Faulkner Gallery and beginning October 7, 2022 at all SBPL locations while supplies last. Additional copies without wait times will be available via Overdrive/Libby in ebook and digital audiobook formats.
Santa Barbara Reads is funded through the annual support of the Santa Barbara Public Library Foundation. To learn more about the foundation and how to support SB Reads 2022, visit their website.
Contact
Contact
Molly Wetta
Library Services Manager