PR Image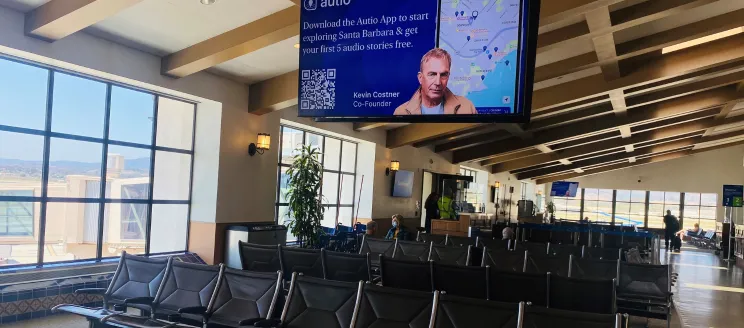 Title
Santa Barbara Airport Selects FUSE Connect to Enhance Regional Partnerships and Advertising Program
Santa Barbara Airport (SBA) has announced that FUSE Connect (FUSE) has been awarded a three-year contract to oversee the partnership and advertising program at the Airport.   
"Being selected by SBA to oversee the relationships it is building through advertising and partnerships is a true honor, especially at this exciting time as the Airport continues to see record growth," said Scott Jacobson, FUSE Founder. 
FUSE is a comprehensive airport partnership and advertising solutions provider, with mutually beneficial relationships at the core of their strategy. FUSE represents a shift in airport advertising and seeks to disrupt the industry through innovative, relationship-based partnerships, while moving away from a traditionally transactional model.    
As part of the agreement, FUSE will be investing resources to enhance the passenger experience through a series of improvements to the digital infrastructure, and creative in-terminal activations.   
"SBA is excited to be partnering with the FUSE team to support local organizations and enhance the passenger experience in ways that are uniquely Santa Barbara," said Brian D'Amour, Interim Airport Director.
The collaboration between SBA and FUSE is off to a fast start, recently establishing long term partnerships between the Airport and local brands.  Incoming passengers will soon be greeted by a baggage claim audio recording of Santa Barbara local, Kevin Costner, as part of a partnership with his travel app, Autio.  
FUSE has also linked up with popular Central Coast brewery, MadeWest (Ventura).  As part of this partnership, MadeWest will become the official craft beer of SBA and will be curating a set of unique and artistic advertising pieces that will be on display in the terminal. 
In efforts to support SBA in community initiatives, FUSE is committed to fostering more robust engagement with community-based organizations and nonprofits. Recently, SBA and YouthWell partnered to disseminate mental health information and resources in the Santa Barbara Region during National Mental Health Awareness Month.   
"Working with SBA through FUSE has been a great experience," said YouthWell Founder and Executive Director, Rachael Steidl. "It is a creative way for us to reach more families in the community. FUSE has been wonderful at guiding us through the process."  
"Santa Barbara and the Central Coast are a premiere destination, and our FUSE team is excited to create meaningful relationships, while further establishing SBA's importance to the community and the region," added FUSE Founder, Scott Jacobson.
###
Fuse Connect is an innovative consultancy based in Southern California that offers end-to-end Airport advertising and partnership services, as well as invests in digital and creative environments to drive success. Through the Fuse Advancement vertical, Fuse offers unique relationship-based strategies that catalyze creative solutions and improve revenue, brand value, and customer advocacy. Partners include Airports, Universities, and businesses. More information is available at www.fuseadvancement.com
Autio (formerly HearHere) is a mobile audio entertainment app for travel that uses geolocation technology to automatically play stories of landmarks, cities & towns nearby. Headquartered in Santa Barbara, CA with a mission to deliver a compelling story at the right time, wherever you may be; the app features 9000+ stories spanning the United States. Many of these stories are narrated by some of your favorite voices like Kevin Costner, John Lithgow & Phil Jackson. Autio launched to the public in 2020 & has been featured in Forbes, TechCrunch, NBC, Business Insider, Travel + Leisure & Goop. The app is often ranked in the top 5 highest grossing apps for travel in the Apple App Store & won the Webby for Best Travel App. In addition, it has been featured as App of the Day by Apple. For a free trial, download Autio on the App Store for iPhone. Visit Autio.com to learn more.
MadeWest is the result of two lifelong friends and Ventura natives seeking to share quality handmade craft beer with our community. Our vision is inspired by the spirit of our home state—a spirit of adventure, creative thinking and a healthy respect for the great outdoors—and by our passion for good beer, good design and overall good life experiences. To learn more about MadeWest and to locate our taprooms, visit www.madewest.com
YouthWell focuses on youth mental health education, prevention, and early intervention. YouthWell hosts monthly workshops and provides an online Youth & Family Mental Health & Wellness Resource Directory for youth, ages 0-25, and their families in Santa Barbara County. For more information, visit YouthWell.org 
Contact
Contact
Angi Daus
Marketing Supervisor