PR Image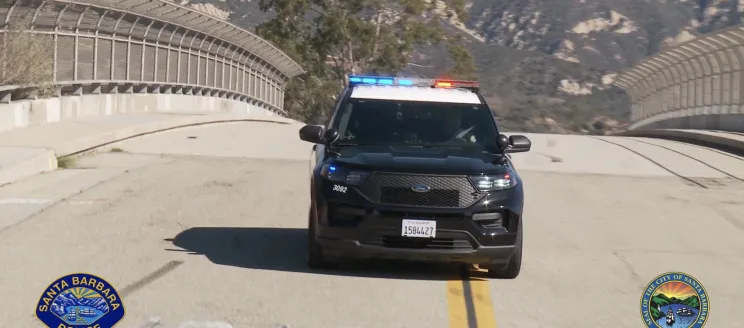 Title
City of Santa Barbara Implements New Evacuation Siren on Police Vehicles
Authored on
August 2, 2022
Over the last several months, the Santa Barbara Police Department has installed a new siren on their police vehicles. This tone is a unique sounding siren used to alert Santa Barbara community members of a need to evacuate a specific area and sounds similar to police sirens you may hear in Europe. The siren sound is known as the "Hi-Lo" tone due to the alternating quick transition "high" pitch to "low" pitch. This particular siren tone is only used in an emergency where you might need to evacuate.
This tone will not be used when officers respond to urgent police incidents or conduct traffic stops.
This siren tone will notify the community of the need to evacuate because of possible danger. This notification system could be used during a vegetation/wildland fire, any natural disaster, hazardous materials spill incident, or any other emergency that might require individuals to evacuate a particular area.
With new legislation passed, this siren tone has started to be implemented and installed on police vehicles throughout the state to notify neighborhoods of evacuation during an emergency or natural disaster. The Santa Barbara Police Department has installed this siren on many of its marked police vehicles. It has also implemented a policy on how and when officers should use them.
It is highly recommended if you hear this new siren tone, tune into a trusted media source to obtain information to confirm if you and/or your family need to evacuate or are affected by an emergency. This siren tone is not replacing any previous evacuation notification methods such as reverse 9-1-1, Everbridge text notifications, and personal door-to-door notifications. This tone is another new tool we are adding to help notify a neighborhood as soon as possible of potential danger.
Please click on the attached links to watch a short video explaining the siren's uses, hear what it sounds like, and learn how to sign up for emergency text notifications.

English PSA:
https://youtu.be/IFX-mvLGr9k
En Español:
https://youtu.be/sus3W1n306k
La ciudad de Santa Bárbara implementa una nueva sirena de evacuación en los vehículos policiales
Durante los últimos meses, el Departamento de Policía de Santa Bárbara instaló una nueva sirena en sus vehículos policiales. Este tono es una sirena de sonido único que es utilizada para alertar a los miembros de la comunidad de Santa Bárbara de la necesidad de evacuar un área específica y suena similar a las sirenas de la policía que puede escuchar en Europa. El sonido de la sirena se conoce como el tono "Hi-Lo" (alto-bajo) debido a la transición rápida alterna de un tono "alto" a un tono "bajo". Este tono de sirena en particular solo se usa en una emergencia en la que es posible que usted deba evacuar.
Este tono no se utilizará cuando los oficiales respondan a incidentes policiales urgentes o realicen paradas de tránsito.
Este tono de sirena avisará a la comunidad de la necesidad de evacuar por posible peligro. Este sistema de notificación podría usarse durante un incendio forestal o de vegetación, cualquier desastre natural, incidente de derrame de materiales peligrosos o cualquier otra emergencia que pueda requerir que las personas evacuen un área en particular.
Con la nueva legislación aprobada, este tono de sirena ha comenzado a implementarse e instalarse en vehículos policiales en todo el estado para notificar a los vecindarios sobre la evacuación durante una emergencia o desastre natural. El Departamento de Policía de Santa Bárbara ha instalado esta sirena en muchos de sus vehículos policiales marcados. También ha implementado una política sobre cómo y cuándo los oficiales deben usarlos.
Es altamente recomendado que si escucha este nuevo tono de sirena, sintonice una fuente de medios confiable para obtener información para asi confirmar si usted y/o su familia necesitan evacuar o se ven afectados por una emergencia. Este tono de sirena no reemplaza ningún método previo de notificación de evacuación, como el 9-1-1 inverso, las notificaciones de texto de Everbridge y las notificaciones personales de puerta en puerta. Este tono es otra herramienta nueva que estamos agregando para ayudar a notificar a un vecindario lo antes posible sobre un peligro potencial.
Favor de hacer clic en los enlaces adjuntos para ver un breve video que explica los usos de la sirena, escuche cómo suena y aprenda cómo registrarse para recibir notificaciones de emergencia por mensaje de texto.
Inglés PSA:
https://youtu.be/IFX-mvLGr9k
En Español:
https://youtu.be/sus3W1n306k
Contact
Contact
Sgt. Ethan Ragsdale
Communications Sergeant - Public Information Officer