PR Image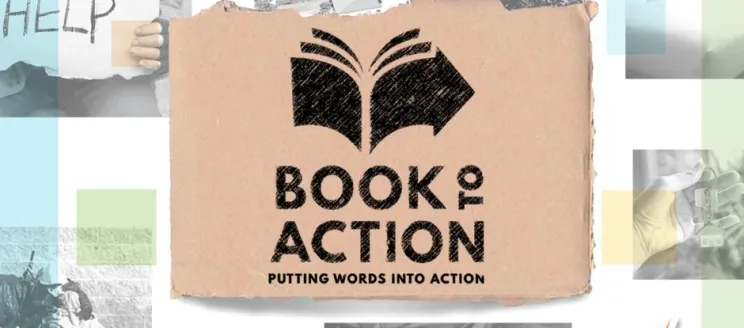 Title
2023 Book to Action Event Series Examines Housing and Homelessness
Authored on
February 6, 2023
Each year, Santa Barbara Public Library chooses a social topic of community interest or challenge that the community is facing and develops a series of programs to explore potential solutions. Through selected readings, presentations, and community engagement, the Library hopes to inspire action in the community to improve their lives and invest in a more sustainable future. 
There is no more pressing issue facing much of California, including Santa Barbara, than housing and homelessness. At least 1,500 people are unsheltered in the Santa Barbara area, including an increasing number of families and people experiencing homelessness for the first time. The policy issues that attempt to address this situation, as well as the causes and potential solutions, are complicated, multi-faceted, and topics that many community members are struggling to understand. 
The 2023 Book to Action series kicks off on February 9, at 6 p.m. in Central Library's Faulkner Gallery with a panel discussion about local housing policy, challenges, and possible solutions. Moderated by local journalist Joshua Molina, audience members will have the opportunity to hear various perspectives on the issue. Panelists include Lucrezia R. de Leon, Architectural Designer, Vanguard Planning; Frank Rodriguez, Policy & Communications Associate, Central Coast Alliance United for a Sustainable Economy (CAUSE); Stanley Tzankov, Santa Barbara Tenants Union activist; Waverly Duck Ph.D., Urban Ethnographer and Professor of Sociology at University of California, Santa Barbara, and Barbara Andersen, Senior Assistant to the City of Santa Barbara City Administrator. This event is presented in partnership with UCSB Reads and UCSB Library. 
Attendees will also receive a copy of the 2023 Book to Action featured title, Golden Gates: The Housing Crisis and Reckoning for the American Dream by Conor Dougherty, which explores America's housing crisis from its root causes to the activist movements it is inspiring through the lens of personal stories of people impacted and those trying to make a difference. 
Santa Barbara Public Library (SBPL) will host a three-part series of book discussions of Golden Gates on February 21, February 28, and March 7 from 1 p.m. to 2 p.m. in Faulkner Gallery West. SBPL has collaborated with currently and formerly unhoused individuals from the Santa Barbara community to develop discussion guides to inform the discussion and apply a local context and individual experience.
An additional book club discussion of Golden Gates will be held at Central Library Faulkner Gallery West on March 1, at 6 p.m.
To complement the exploration of the housing crisis, SBPL has selected another title to inspire hope and spur action. SBPL will facilitate book discussions of Mutual Aid: Building Solidarity in this Crisis and the Next by Dean Spade. This short book focuses on how survival work coupled with social movements working toward transformative change can help people find innovative solutions to address the needs of vulnerable populations. Spade, a legal scholar and activist, will give a keynote address on April 18 at 6 p.m. to kick off a series of mutual aid workshops for those interested in learning to apply this framework of survival work in tandem with social movements. These workshops will offer concrete tools for organizing, such as how to work in groups, how to foster a collective decision-making process, how to prevent and address conflict, and how to deal with burnout. Local activists, community organizers, and volunteers will have two opportunities to discuss this practical guide to mutual aid work. Adults of any age are invited to a workshop on May 2 at 6 p.m. at Central Library in Faulkner Gallery West. High school students and young adults up to age 25 will have another workshop opportunity on Saturday, May 6, at 10 a.m. in the Martin Luther King, Jr. Room at Eastside Library. 
Several more opportunities to engage with the issues of housing and homelessness will be held from February through May 2023 as part of the Book to Action series. Visit the Library's Calendar or sign up to receive the Library's weekly email newsletter for updates on additional events. 
About Book to Action
Book to Action is a program framework that takes the basic book club concept and expands it to create a dynamic series of events for adults and multigenerational groups. Librarians work closely with community partners in engaging community members to read and discuss a book on a current topic, attend author or speaker events, and put their new-found knowledge into action by participating in a community service project or civic engagement activity related to the book.
About the Santa Barbara Public Library
The Santa Barbara Public Library is a department of the city of Santa Barbara and is dedicated to supporting education for all ages through classes and events, building a community of readers, empowering individuals with free access to information, and connecting people to community resources. For information, visit www.sbplibrary.org.
This project was supported in whole or in part by the U.S. Institute of Museum and Library Services under the provisions of the Library Services and Technology Act, administered in California by the State Librarian.
Contact
Contact
Molly Wetta
Library Services Manager