ID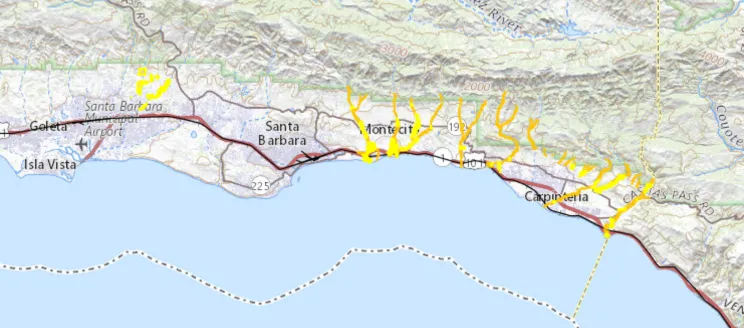 Title
Storm Updates January 9-10
Authored on
January 9, 2023
Body
Desplácese hacia abajo para ver la traducción al español
Updated January 10 at 3:45 p.m.
All Evacuation Orders and Shelter in Place CANCELLED at 2 PM for Santa Barbara County.
Be aware that flooding and debris may still be present in the area. NEVER drive, swim, or walk into floodwaters. Turn around, don't drown!
Flood waters can also hide hazards such as washed out road surfaces and large rocks. Be cautious of potential rock falls when traveling roads and avoid traveling at night.
Due to significant debris on roads, some residents may not be able to access their homes or leave the impacted areas. If residents cannot leave and need resources, please contact the Santa Barbara County Call Center at 833-688-5551. For medical emergencies and life-threatening safety issues, call 9-1-1.
Be aware that response crews are continuing clean-up and repair efforts.
Stay alert to changing conditions.
Todas las Órdenes de Evacuación y Quedarse en su Lugar CANCELADAS a las 2 PM para el Condado de Santa Bárbara.
Tenga en cuenta que todavía puede haber inundaciones y escombros en el área. NUNCA conduzca, nade o camine en aguas inundadas. Dé la vuelta, ¡no se ahogue!
Las aguas de las inundaciones también pueden ocultar peligros como superficies de carreteras destrozadas y grandes rocas. Tenga cuidado con los posibles desprendimientos de rocas cuando viaje por carretera y evite viajar de noche.
Debido a la gran cantidad de escombros en las carreteras, es posible que algunos residentes no puedan acceder a sus casas o salir de las zonas afectadas. Si los residentes no pueden salir y necesitan recursos, por favor póngase en contacto con el Centro de Llamadas del Condado de Santa Bárbara en 833-688-5551. Para emergencias médicas y problemas de seguridad que amenazan la vida, llame al 9-1-1. Manténgase alerta a las condiciones cambiantes.
Tenga en cuenta que los equipos de respuesta continúan los esfuerzos de limpieza y reparación.
Manténgase alerta a las condiciones cambiantes.
--------------------------------------------------------------------------------------------------------------------------------------------------------------------
EVACUATION ORDER has been issued for all of Montecito/Toro Canyon/Sycamore Canyon/Padaro Ln. Leave now.
EVACUATION ORDER. Serena Park area in Carpinteria. Flooding. Leave now.
Click here to access the Santa Barbara County 2023 January Winter Storm Incident Map.
Residents should:
Leave Now! 
Expect strong winds which can cause debris to fall onto roadways and power outages.
BE PREPARED to sustain yourself and your household for multiple days if you choose not to evacuate, as you may not be able to leave the area and emergency responders may not be able to access your property in the event of road damage, flooding, or a debris flow.
A SHELTER IN PLACE remains in effect for Santa Barbara County impact areas (Cave and Alisal). Go to innermost room or high ground. DO NOT attempt to leave. If already evacuated, remain out of the area.
Resources & Information: 
An Evacuation Center is open at the SBCC Wake Center, 300 N. Turnpike Rd, Santa Barbara.
For animal evacuation information, call Santa Barbara County Animal Services at 805-681-4332.
For large animal evacuation assistance, please call 805-892-4484.
For Evacuation Center assistance and additional information, contact the Santa Barbara County Call Center at 833-688-5551 or call 2-1-1.
 Click here to register for Emergency Alerts to receive any changes to protective actions.
HIGHWAY CLOSURES:
NORTHBOUND 101 CLOSED AT THE 33, THROUGH SANTA CLAUS LANE
EXPECT FLOODING ALONG SECTIONS OF NORTHBOUND 101 THROUGHOUT SUMMERLAND & MONTECITO, WITH INTERMITTENT CLOSURES AND ON/OFFRAMP CLOSURES
NORTHBOUND 101 CLOSED AT GAVIOTA
HIGHWAY 154 CLOSED IN BOTH DIRECTIONS
AVOID TRAVEL IF YOU ARE NOT IN AN EVACUATION ORDER ZONE. ROADS ARE FLOODED AND DANGEROUS.
Check here for storm-related road closures: https://www.countyofsb.org/3675/Storm-Related-Road-Closures
Airport
The airport is officially closed due to runway flooding. Business at the northwest corner of the Airport have been evacuated.
Stearns Wharf
Storm surge, waves, and high tides have impacted Waterfront parking lots, the harbor, and SB Yacht Club. There have been no significant issues with Stearns Wharf or the Yacht Club. Staff is working with the Army Corps for emergency dredging. The Waterfront is monitoring the situation with the upcoming swell and post closures, but urges the public to obey posted closures and signage. 
Road Closures
Get City of Santa Barbara road closure information in real time HERE
Get County Road Closure Information HERE 
--------------------------------------------------------------------------------------------------------------------
ORDEN DE EVACUACION ha sido emitida para todo de Montecito/Toro Canyon/Sycamore Canyon/Padaro Ln. Desaloje ahora.
ORDEN DE EVACUACION. Area de Serena Park en Carpinteria. Inundaciones. Vaya ahora.
Haga clic aquí para ver un mapa de incidentes de tormentas invernales para enero de 2023 en el condado de Santa Bárbara,un mapa interactivo sobre consideraciones para tormentas.
Desalojar ahora.
Esperar fuertes vientos que pueden causar que los escombros caigan sobre las carreteras y cortes de energía.
ESTAR PREPARADOS para mantenerse a sí mismo y a su hogar durante varios días si decide no evacuar, ya que es posible que no pueda abandonar el área y es posible que los servicios de emergencia no puedan acceder a su propiedad en caso de daños en la carretera, inundaciones o un flujo de escombros.
QUEDASE EN SU LUGAR sigue en efecto para areas de impacto en Condado de Santa Barbara (Cave y Alisal). Vaya a un cuarto interno o terreno mas alto. NO intente irse. Si ya ha evacuado, permanezca fuera del area.
Recursos e información:
Un Centro de Evacuación está abierto en el SBCC Wake Center, 300 N. Turnpike Rd., Santa Barbara.
Para información sobre la evacuación de animales, llame a los Servicios para Animales del Condado de Santa Bárbara al 805-681-4332.
Para asistencia en la evacuación de animales grandes, llame al 805-892-4484.
Para asistencia sobre Centros de Evacuación y más información, comuniquese con el Centro de Llamadas del condado de Santa Barbara al 833-688-5551 or call 2-1-1.
Haga clic aquí para regístrese para Alertas de Emergencia para recibir cualquier cambio en las acciones de protección.
CIERRE DE CARRETERAS:
NORTHBOUND 101 CERRADO EN EL 33, A TRAVÉS DE SANTA CLAUS LANE
SE ESPERAN INUNDACIONES A LO LARGO DE SECCIONES DE LA 101 EN DIRECCION NORTE A TRAVES DE SUMMERLAND Y MONTECITO, CON CIERRES INTERMITENTES Y CIERRES DE RAMPAS DE ENTRADA Y SALIDA.
DIRECCIÓN NORTE 101 CERRADA EN GAVIOTA
CARRETERA 154 CERRADA EN AMBAS DIRECCIONES
EVITE VIAJAR SI NO SE ENCUENTRA EN UNA ZONA CON ORDEN DE EVACUACIÓN. LAS CARRETERAS ESTÁN INUNDADAS Y SON PELIGROSAS.