ID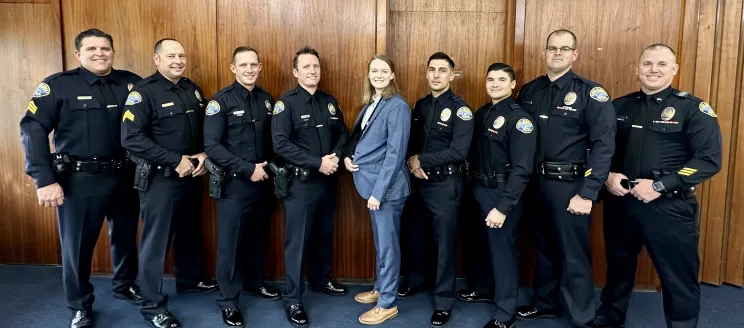 Title
Nine SBPD Officers Receive the Guerry Award for Superior Performance
Body
On May 24, 2023, nine Santa Barbara Police Department law enforcement officers were awarded the H. Thomas Guerry Award for Superior Performance.
Officer M. Tonello - H. Thomas Guerry Award for Superior Performance:
In 2022, Officer Tonello responded to the Olive Mill Road overcrossing of US 101 for a report of a suicidal male threatening to jump off the overpass. Officer Tonello arrived and began primary negotiation with the subject and immediately began to de-escalate the situation and establish rapport. Over the next two hours Officer Tonello patiently negotiated with the subject and eventually convinced him to receive treatment at Cottage Hospital.
Officer Tonello personally delivered the subject to the hospital and ensured he was receiving the help that was needed. This peaceful resolution to a volatile situation was thanks to the tireless commitment of Officer Tonello.
Sgt. R. DeJohn, Sgt. C. Payne, Ofc. J. Duffy, Ofc. J. Hesketh, Ofc. K. King, Ofc. M. Renaud, Ofc. D. Reyes, and Ofc. T. Van Eyck - Santa Barbara Police Department Community Action Team (CAT) - H. Thomas Guerry Award for Superior Performance:
Now more than ever, law enforcement agencies are being asked to partner with communities in their policing practices to build meaningful relationships and produce optimal results. In an effort to support this mission, the SBPD created the Community Action Team (CAT); a proactive, high-performing team of dedicated officers committed to both short-and long-term solutions to a variety of complex societal issues. CAT Officers attend weekly "Regional Action Plan" (RAP) meetings, where they are able to collaborate with other organizations, listen to community concerns and answer questions. They conduct community presentations, assist with community training and are subject matter experts in crisis intervention and de-escalation. SBPD CAT partners with Santa Barbara Act, City Net, Good Samaritan, County Behavioral Wellness, PATH, Rescue Mission and a variety of other County and City Departments. Their skilled approach and knowledgeable team have also been able to support the ever-changing and complex needs of our most vulnerable community members. The Community Action Team is an exemplary team; professional, dedicated, procedurally just and forward thinking.
Outstanding work by every member of the Santa Barbara Police Department Community Action Team. We want to congratulate them on this achievement and their accomplishments.
Congratulations to the nine law enforcement officers who were awarded the H. Thomas Guerry Award for Superior Performance.
History of the H. Thomas Guerry Awards:
"On January 12, 1970, Detective H. Thomas Guerry was conducting an investigation and driving on Chapala Street, the detective noticed two wanted men walking in the area of Ortega Street and Bradbury Avenue. As he approached the intersection the wanted men split apart from one another and began to walk back to each side of the front of the police vehicle. As the detective stepped from his vehicle, both wanted subjects opened fire with handguns, fatally wounding Detective Guerry.
The death of Detective Tom Guerry ripped through the heart of Santa Barbara, as well as the entire region. In memory of Tom, the Santa Barbara Citizens Council on Crime established the H. Thomas Guerry award. Each year, law enforcement officers from agencies in the County of Santa Barbara are honored for valor, skill in conflict resolution, and outstanding overall performance. The Guerry Award continues to be the most coveted and respected award one can receive in the county. It is through the Guerry Awards that the memory of Tom can be kept alive and his legacy of courage and dedication honored." (Source: California Peace Officers' Memorial Foundation)