ID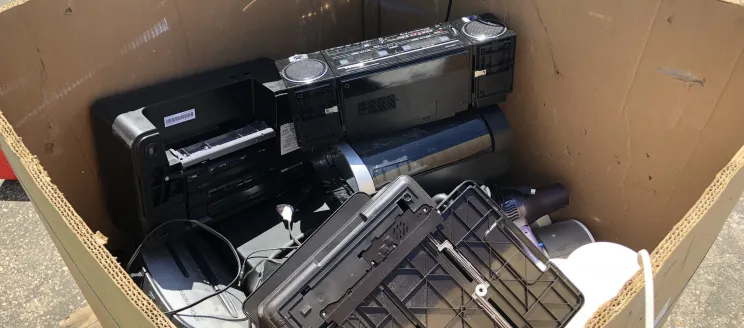 Title
Everyday E-waste Recycling & Quarterly Events
Authored on
October 20, 2021
Body
E-waste Recycling
Electronics waste or e-waste is anything that has an electrical cord or runs on batteries. E-waste cannot be put in the trash or recycling containers since it contains hazardous materials. In fact, it has been illegal to dispose of electronics with hazardous components since February, 2006. To read more about what items are considered e-waste and how they should be properly disposed, visit our page on E-waste.
6 days a Week E-waste Recycling Drop-off
Residents and businesses can drop off electronic waste at 3 easy-to-use local locations 6 days a week. Free for residents, charge for businesses. See our Drop-off Locations and E-waste pages for details.
Quarterly E-waste Events
The City has partnered with Corporate E-Waste Solutions to hold quarterly events in the old Sear's Parking Lot at La Cumbre Plaza. This drop-off is free for both residents and businesses (NOTE Acceptable & Non-acceptable items list below).
Drive-up and Drop-off E-waste Event:
When: Sat. & Sun. October 23rd and 24th, 8 AM - 3 PM each day
Where: The Old Sear's Parking Lot at La Cumbre Plaza, Santa Barbara Map to location
What: Please review the detailed list below for Acceptable and Unacceptable Items at this sponsored Corporate E-Waste Solutions Event.
Not Accepted at Quarterly Event:
Accepted items at Quarterly Event:

Light bulbs

Household batteries

Cooktops

Dishwashers

Dryers

Freezers

Ice makers

Microwaves

Ranges/stove and range hoods

Refrigerators

Wall ovens

Washers

Air conditioners

Treadmills

Vacuum sealers

Vaping, nicotine or THC-containing devices

Waffle makers

Water bottles

Water dispensers

Wet/dry vacuums

Wine coolers

X-Ray machines

 

 

 

 

 

 

 

 

 

 

 

 

 

 

 

 

 

 

 

 

 

 

 

 

 

 

 

 

 

 

 

 

 

 

 

 

 

 

 

 

CRT TV

CRT monitor

LCD TV

LCD monitor

Rear Projection TV

All-in-one computers

Battery backups (UPS)

Cables and connectors

CD/DVD drives

Computer speakers/controllers

Desktops

Hard drives

Ink/toner cartridges

Laptop batteries

Laptops (limit of five per household per day)

Memory

Mice and keyboards

Modems/routers/hubs

Web cams

Netbooks

Printers/scanners/fax

Sound/video cards

Tablets

E-readers

Cables and connectors

DirecTV set-top boxes/converters

DVD/Blu-ray players

Headphones

In-dash/overhead DVD

Internet TV set-top boxes/satellite receivers

Portable DVD

Portable media players

Power inverters

Projectors

Remotes/surge protectors

TiVO

TV antennas less than 3' long

VCRs

Chargers

Hands-free headsets

Landline phones

Mobile phones

Recorders

Shredders

Two-way radios

Wireless broadband

Alarm clocks

Amps and effects

Audio mixers/DJ turntables

CD players/recorders

CD/cassette players

Chargers

Home audio networking

Home recording interfaces

HTIB/soundbars/speakers

iPods/other MP3 players

MP3 speakers

Speaker systems

Personal recorders

Receivers/boomboxes

Satellite radio

Turntables