ID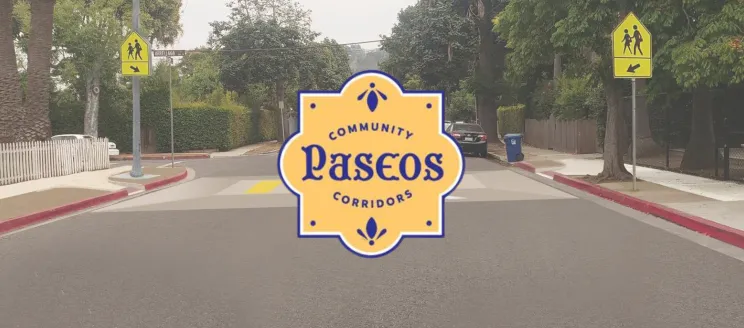 Title
Construction Continues for the Westside Community Paseos Project on Gillespie and Sola Streets
Body
Construction began and will continue into mid-July on Gillespie Street. Access will be maintained for residents, although temporary disruptions and detours should be anticipated. New safety features include traffic diverters at the intersections with Sola, Valerio, and Mission Streets; speed humps with landscaped peninsulas on the 1700 and 1900 blocks; and a raised crosswalk at Gillespie and Arrellaga Streets. These features will encourage a reduction in vehicular volumes and speed so cyclists can share the roadway comfortably with vehicles, and create safer crossings for pedestrians.  
Construction will begin on Sola Street in July and will include new traffic signals at the intersections with De La Vina, Chapala, Anacapa, and Santa Barbara Streets. The Project will also include traffic diverters at De La Vina and Santa Barbara Streets to lower vehicular volumes and facilitate a safe cross-town connection.  
Residents and businesses will be notified prior to construction commencing on Sola Street.   
Since January of 2023, the following safety enhancements for the Project have been constructed: a new multiuse path safely connecting cyclists and pedestrians to routes on Modoc Road and San Pascual Street; speed humps on San Pascual and Nopal Streets; pedestrian access ramps at the intersections of Panchita and Sola, Panchita and Victoria, and Sola and Salsipuedes Streets; and a new crosswalk and rapid flashing beacons at Dutton and Almond Avenues for pedestrians to safely cross Micheltorena Street.  
Construction on Micheltorena Street will be completed in the next month and will include repaving the roadway and installing buffered bike lanes with protective bollards on the Micheltorena Street bridge for safer access over U.S. Highway 101. 
The Project will be constructed in phases and will last approximately four more months. Community updates will be provided prior to construction in each location. Work is restricted to occur between 7:00 a.m. to 5:00 p.m., Monday through Friday. 
We appreciate your continued support and patience. For more information about the Project, email WestsideCommunityPaseos@SantaBarbaraCA.gov. 
---
Continua la construcción del proyecto Paseos Comunitarios del Westside en las calles de Gillespie y Sola 
La construccion del proyecto ha comenzado y continuara hasta mediados de julio en la calle Gillespie. Se mantendrá el acceso para residentes y negocios, aunque se anticipa interrupciones temporales y retrasos en el tráfico. Las nuevas caracteristicas de seguridad en la calle Gillespie incluiran desviadores de trafico en las intersecciones con las calles Sola, Valerio, y Mission, lomos de velocidad con peninsulas ajardinadas en las cuadras 1700 y 1900, y un paso de peatones elevado en la calle Gillespie y calle Arrellaga. Estas caracteristicas reduciran el volumen y velocidad de los vehiculos para que ciclistas y vehiculos puedan compratir el camino comodamente y  crear cruces mas seguros para los peatones.  
La construccion de la calle Sola comenzara en julio e incluira nuevos semaforos en las calles De La Vina, Chapala, Anacapa, y Santa Barbara. El proyecto tambien incluira desviadores de trafico en las calles De La Vina y Santa Barbara para reducir el volumen vehicular y facilitar una conexion segura entre la ciudad.  
Los residentes y negocios seran notificados antes de que comience la construccion en la calle Sola. 
Desde Enero del 2023, se han construido las siguientes mejoras de seguridad de el Proyecto: un nuevo sendero de usos múltiples que conecta de manera segura a ciclistas y peatones con las rutas en Modoc Road y San Pascual Street, y nuevas rampas de acceso para peatones en las intersecciones de Panchita y Sola, Panchita y Victoria, y las calles Sola y Salsipuedes; y un nuevo cruce de peatones y balizas intermitentes rapidas en la avenida Dutton y Almond para que los peatones crucen Micheltorena con seguridad. El trabajo en la calle Micheltorena se completara el proximo mes e incluira la repavimentacion de la calle y la instalacion de carriles para bicicletas protegidos con bolardos en el puente de la calle Micheltorena para un acceso mas seguro sobre la autopista 101  
El Proyecto se construirá en etapas y tendrá una duración aproximada de cuatro meses más. Se proporcionarán actualizaciones a la comunidad antes de la construcción en cada ubicación. El trabajo está restringido a realizarse entre las 7:00 a.m. y las 5:00 p.m., de lunes a viernes.  
Agradecemos su continuo apoyo y paciencia. Para obtener más información sobre el Proyecto, envíe un correo electrónico WestsideCommunityPaseos@SantaBarbaraCA.gov.