PR Image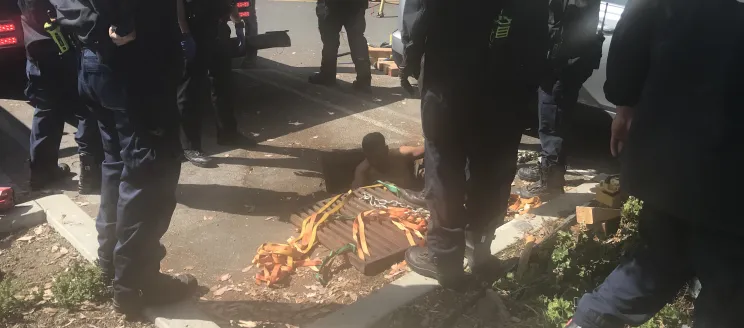 Title
Man rescued from confined space in the Santa Barbara Harbor
Authored on
September 30, 2022
On Friday, September 30, 2022, at approximately 1:31 p.m., the Santa Barbara City Police Department Combined Communications Center was notified of a possible confined space rescue in the harbor, in front of marina three. The Santa Barbara City Fire Department responded to the scene with three fire engines, one heavy rescue company, a hazardous materials unit, and one Battalion Chief.
The Santa Barbara Harbor Patrol also responded and confirmed that a male was trapped in a storm drain under a grate and a parked vehicle. The vehicle was moved prior to the first fire apparatus' arrival and the victim was unable to leave the location due to the high tide. Firefighters used web straps, various tools, and made several cuts around the grate, however, the grate was unable to be lifted.
A tow truck was requested to the scene and a vehicle from 805 Towing arrived shortly thereafter. While under the supervision and direction of fire department personnel, the tow truck operator used a chain to wrap around the grate
The grate was lifted and removed by the tow truck; the male victim believed to be in his 30's was able to exit the hole under his own power. The victim was partially clothed and possibly suffering from environmental exposure.  AMR evaluated the victim and transported him to Santa Barbara Cottage Hospital. Santa Barbara Police assisted with traffic and crowd control at the scene. The victim estimated he may have been in the hole for approximately six hours.
The Santa Barbara City Fire Department would like to remind everyone that storm drains are not for exploration or temporary shelter.
Photos courtesy of the Santa Barbara City Fire Department.
Contact
Contact
Kevin Corbett
Fire Engineer / Public Information Officer