ID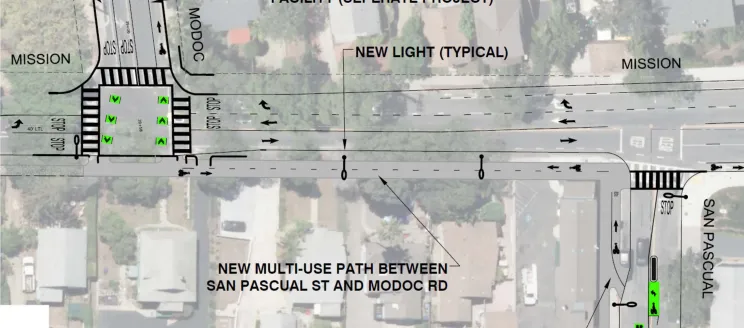 Title
Construction Begins for the Westside Community Paseos Project
Authored on
January 26, 2023
Body
On January 17, Southern California Edison and Lash Construction, Inc. began relocating utility poles along Mission Street, between Modoc Road and San Pascual Street, in preparation for construction of the Westside Community Paseos Project. 

Beginning January 27, construction for the Project will occur on the 600 block of W. Mission Street and will last for approximately two months. Access will be maintained for residents, although temporary disruptions should be anticipated during construction. A new, separated multiuse path will be constructed that safely connects cyclists and pedestrians to routes on Modoc Road and San Pascual Street.

The Project will be constructed in phases and will last approximately nine months. Community updates will be provided prior to construction in each location. Work is restricted to occur between 7:00 a.m. to 5:00 p.m., Monday through Friday.

The Project is funded primarily through Active Transportation Program grant funds and will provide strong walking and biking connections within the Westside, and from the Westside to Downtown. 

We appreciate your continued support and patience. For more information about the Project, email WestsideCommunityPaseos@SantaBarbaraCA.gov.
---
El Proyecto de Paseos Comunitarios del Westside (Proyecto) se financia principalmente a través de fondos de subvención del Programa de Transporte Activo y proporcionará sólidas conexiones para caminar y andar en bicicleta dentro del Westside, y desde el Westside hasta el Centro.

El 17 de enero, Southern California Edison y Lash Construction, Inc. comenzaron a reubicar postes de servicios públicos a lo largo de Mission Street, entre Modoc Road y San Pascual Street, en preparación para la construcción.

A partir del 27 de enero, la construcción del Proyecto se llevará a cabo en la cuadra 600 de W. Mission Street y durará aproximadamente dos meses. Se mantendrá el acceso para los residentes, aunque se deben anticipar interrupciones temporales durante la construcción. Se construirá un nuevo camino de usos múltiples separado que conectará de manera segura a ciclistas y peatones con las rutas en Modoc Road y San Pascual Street.

El Proyecto se construirá en fases y tendrá una duración aproximada de nueve meses. Se proporcionarán actualizaciones a la comunidad antes de la construcción en cada ubicación. El trabajo está restringido a realizarse de 7:00 a. m. a las 5:00 p. m., de lunes a viernes.

Agradecemos su continuo apoyo y paciencia. Para más información sobre el Proyecto,  el correo electronico WestsideCommunityPaseos@SantaBarbaraCA.gov.