Banner

Title
Waterfront Department Storm Damage Recovery
Body
The Santa Barbara waterfront and harbor continue to recover from the strong storms and high tides of early January. 
All waterfront businesses, are open.
DREDGING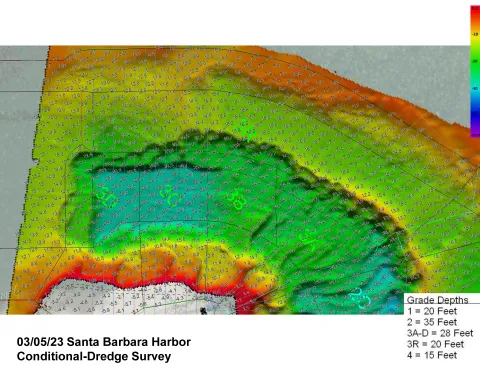 Santa Barbara Harbor Conditional Dredge Survey 1
Due to the massive amount of sand pushed into the harbor by the recent storms, the harbor entrance was extremely impacted and hazardous to navigate.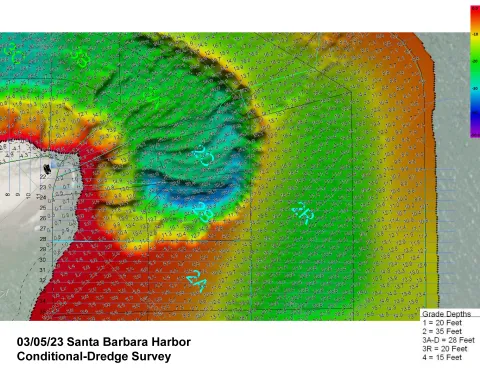 Santa Barbara Harbor Conditional Dredge Survey 2
The Waterfront Department immediately began working with the U.S. Army Corps of Engineers to initiate emergency dredging operations.
The electric dredge Sandpiper arrived on January 22 and successfully cleared the federal channel on January 28 however, sand continued to accumulate.
Maintenance dredging of the Santa Barbara Federal Channel began February 26, and the first phase is now complete.
The Army Corps of Engineers is planning another phase of dredging in early to mid-April. 
Mariners can contact Santa Barbara Harbor Patrol on VHF Channel 12 or 16 or by phone at 805-564-5530 for updates on the Federal Channel.

ROCK REVETMENT
The Waterfront Department worked under an emergency repair permit with California Coastal Commission to install a section of rock revetment between the Santa Barbara Yacht Club parking lot and Harbor West parking lot to protect against further erosion and property damage. The revetment work is complete but further repairs still need to be made to the Harbor West parking lot. Parking restrictions in the Harbor West lot can be expected. We ask that you respect signage and posted parking lot closures while this work is completed.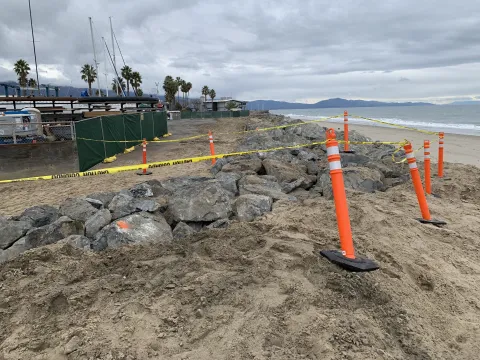 Rock revetment