Dates
Dec 1, 2023
4:00 - 7:00 PM
Location
Location
City of Santa Barbara Sustainability & Resilience Department
801 Garden Street, Suite 200
Santa Barbara, CA 93101
Event Image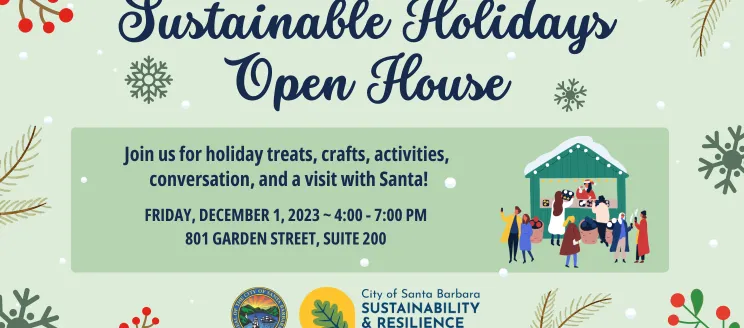 Title
Sustainable Holidays Open House
Description
The City of Santa Barbara's Sustainability & Resilience Department is delighted to invite the community to join us for a "Sustainable Holidays Open House" on Friday, December 1 from 4:00 PM to 7:00 PM at our office located at 801 Garden Street, Suite 200. This festive event is designed to spread holiday cheer and promote sustainability while bringing our community closer together. 
The "Sustainable Holidays Open House" is a free event for all to enjoy and will feature a variety of activities and offerings, including: 
Cider, hot cocoa, and holiday treats.
DIY holiday craft stations, allowing you to create eco-friendly holiday ornaments, wrapping paper, and more. 
Photo opportunities with Santa! 
Meet Sustainability & Resilience Department staff and learn more about our mission and initiatives.
Enjoy the Santa Barbara High School Madrigals caroling from 4:30 PM - 6:00 PM.
Visit with Santa Barbara Public Library staff and learn about their Library of Things.
View our Sustainable Holiday Tips
A limited number of artificial Christmas trees will be available for community members to borrow throughout the holiday season, aligning with our mission to reduce waste and promote a culture of borrowing instead of buying. While the trees on hand have already been reserved, we will be purchasing more to share with the community next year. Please fill out our interest form to be notified when trees are available.