Image

Title
Business License Information
Body
The 2nd quarter 2023 Parking & Business Improvement Area (PBIA) assessment experienced a delay and the billing references incorrect dates. The 2nd quarter PBIA is due September 1, 2023 and will be considered delinquent if not paid on or before September 15, 2023. Please contact Arlene Martin at AMartin@SantaBarbaraCA.gov with any questions.
Welcome to the City of Santa Barbara! The Business Tax Certificate program benefits the well-being of the overall community by funding essential services, such as: fire, police, economic development, sidewalks, streets, and parks and beach maintenance. The purpose of a Business Tax Certificate (often referred to as a "business license") is solely to raise revenue for general municipal services to residents and businesses; it is not a "license or permit".
Santa Barbara Municipal Code provides for the City to levy and collect business license taxes, business improvement district assessments, and fees for other regulatory permits. We are pleased you are considering participation in the Santa Barbara business community and wish you much success. The Business License office is responsible for the administration of this program, which includes ensuring that businesses operating in the City are compliant with local, state, and federal regulations.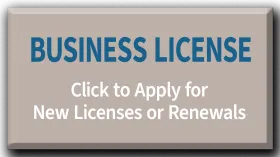 As required by Santa Barbara Municipal Code Title 5 Business Taxes and Permits, Chapter 5.04, the City of Santa Barbara has transitioned to a CALENDAR-YEAR based business tax certificate program as of January 1, 2023.
Business Tax Certificates will expire December 31 of each year. All businesses have until January 31 to renew their business license tax certificate without late fees.
For business tax certificate application and Tax Fee Schedule visit: 
http://SantaBarbara.BizlicenseOnline.com
For business tax certificate renewal notice information, contact:
SantaBarbaraSupport@avenuinsights.com
(877) 779-7222